It is the intent of this group's efforts to build a highly inspirational aircraft device that will make a positive influence on our youths for years to come.
Also, the F-4 Phantom II Thunderbird Simulator intent is to give the everyday person a once in a life time opportunity to get in a real jet cockpit and you actually get flight it.
The owner, Steve Cannaby, and his group have a passion for aviation and takes pleasure in giving this rare opportunity to people who otherwise would never have the chance.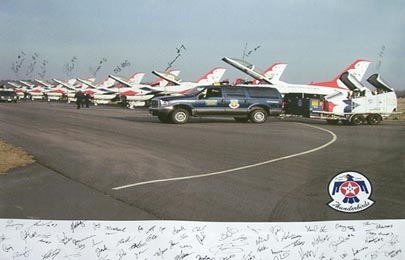 We want to thank the 2006 USAF Thunderbird Team
for signing our 16X20 picture of simulator in formation with
the team at Fort Smith, Arkansas
If you would additional information regarding the F-4 Phantom II Thunderbird Simulator please fill free to contact us, we will more than happy answer any question you mifht have.